Lutheran World Relief's 

engagement in the cocoa sector draws on our long history of partnership with local communities, businesses and governments that enable in-country professionals to lift up local knowledge and leverage relationships that drive results.
With annual sales of nearly $100 billion worldwide, cocoa has the potential to be a lucrative cash crop that could be an engine of inclusive economic growth across the developing world. Almost 90 percent of the world's cocoa originates from smallholder producers farming less than five hectares of land. But these farmers face considerable challenges, including changing weather patterns, disease, aging trees and limited access to improved varieties, inputs and technical assistance.
As a result, these farmers are earning on average less than 10 percent of the international price per pound, perpetuating a cycle of poverty and dependence.
Lutheran World Relief's Approach to Cocoa
Expert staff: Our regional staff of experienced administrators, specialized grant managers and agronomists work with our expert cocoa industry relationship manager to create linkages along value chains that benefit coffee and cocoa producers and generate profits for corporations. 
A holistic approach: We provide expert training to farmers and cooperatives so they can learn new and effective growing, harvesting and post-harvest handling methods; we supply high-grade inputs, like seedlings and fertilizer; and we develop innovative information communications technology to access and share information.
Strengthening cooperatives: We also work alongside cooperatives and producer organizations to improve governance and administrative capacity.
Strategic partnerships: Our partnerships with funders like Root Capital, the World Bank's International Finance Corporation and FAST International connect cocoa producers with credit and financial assistance, and our partnerships with certification organizations, including FLOCERT (the certification body of Fairtrade International) and UTZ Certified, help farmers secure valuable cocoa and coffee certifications.
Lutheran World Relief Cocoa Initiatives
Mobile Cocoa

Cocoa Flavor Map

Cocoa Industry Forums
Our Mobile Cocoa (Cacao Móvil) application gives cocoa farmers the technical expertise they need, right at their fingertips. The app is a solution to the geographic isolation that makes it difficult for many farmers in Latin America to learn how to grow quality cocoa. The app's 10 practical guides include information on cocoa cultivation and covers subjects ranging from soil management, pruning techniques, pest management, and a primer on cocoa marketing. Cacao Movil is freely available through cacaomovil.com or Google Play. The development of Cacao Movil was funded by the U.S. Department of State and the World Environment Center's Pathways Innovation Challenge. Lutheran World Relief was one of four winners among 600 applicants chosen to receive the funding, designated for the most innovative and successful models for strengthening and expanding small-medium enterprises in Latin America.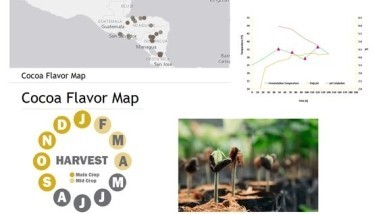 In 2017, Lutheran World Relief launched the Central America Regional Cocoa Flavor Map, an innovative initiative documenting the distinct flavor profiles of cocoa produced by Lutheran World Relief farmer and cooperative partners in El Salvador, Nicaragua, and Honduras. The Cocoa Flavor Map helps cocoa producers better connect with buyers of fine and specialty cocoa, who can quickly identify the sources for the cocoa flavors, profiles and characteristics they are seeking. Farmers and cooperatives can demonstrate an ability to offer customer-driven solutions, as well as to adopt a more knowledgeable post-harvest approach. Chocolate makers are able to obtain exclusivity on special micro-lots, purchase lots that exactly cover their needs, and increase their knowledge, transparency and traceability of cocoa processing. The Cocoa Flavor Map was developed in collaboration with Zoto, Guittard Chocolate and Cocoa of Excellence. Explore the Lutheran World Relief Cocoa Flavor Map at http://cocoaflavormap.cacaomovil.com.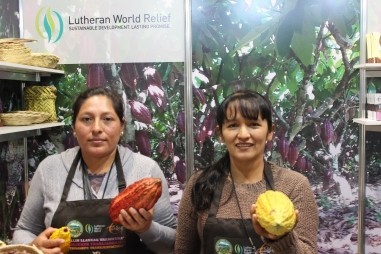 With connections across the value chain, Lutheran World Relief creates opportunities for producers, cooperatives, companies, buyers, financial institutions and research centers to connect and form productive, mutually beneficial relationships.
We host and sponsor regional and national forums, including a regional World Cocoa Foundation meeting in El Salvador, and a Central America Regional Cocoa Forum that received support from U.S. Department of State's Pathways to Prosperity for the Americas initiative. We also enable farmers to participate in leading industry events and conferences, including the global Cocoa of Excellence program and the Salon du Chocolat exposition in Paris. Lutheran World Relief is a member of the ICCO (International Cocoa Organization), a Consultative Board that advises the International Cocoa Council in its work to develop a sustainable global cocoa economy.
Higher Values. Higher Impact. Hire Us.
Connect