Areas of Expertise

Local Capacity Strengthening
For Lutheran World Relief, strengthening local capacity means leveraging and elevating the existing capacity of local partners to advance mutual learning and to drive innovative, transformational change.
We approach local capacity strengthening as a dynamic, purposeful process where local partners strengthen and continuously improve their ability to achieve their mission and adapt to change.
To emphasize the value we place on the mutual learning, co-creation and leadership within our holistic partnerships, we intentionally refer to our capacity strengthening approach as accompaniment. It is an approach to local capacity strengthening that derives from our steadfast belief in locally led development and the right and ability of local voices and institutions to advocate for and implement their own development agenda.
Our definitions:
Capacity is the combination of knowledge, skills, processes, relationships and commitment needed to produce sustainable development objectives.  
Capacity Strengthening is a purposeful process where organizations strengthen and continuously improve their ability to achieve their mission and adapt to change.   
Accompaniment is an intentional, collaborative and respectful process where Lutheran World and our partners support mutual effectiveness, learning and resilience 
Our accompaniment approach grows out of the conviction that local partners, such as farmer cooperatives or small and medium-sized enterprises (SMEs), are best positioned to act on behalf of their communities, due to their understanding of local context, their connections to civil society and government authorities, and the role they play in ensuring sustainability after a project concludes.
The accompaniment approach guiding Lutheran World Relief is built upon the following key principles:
Holistic Partnership
We build long-term partnerships as equals with each party sensitive to the needs, concerns and unique role of the other.
Local Ownership
We recognize that local partners are the true development leaders in their communities. We support existing structures and capacities, building off what is working and collaborating with partners to innovate for long-term change.
Mutual Learning
We champion mutual learning with our partners as we seek to understand local contexts and adapt tools, ideas and approaches.
Gender Equity and Social Inclusion
Our approach builds trust and inclusive relationships among traditionally marginalized people, supporting partners to achieve equitable results across systems regardless of gender, ethnicity or background.
Sustainability
Our efforts are dedicated to capacities that will continue to serve communities far beyond the life of a project.
Lutheran World Relief is well-versed in working with a range of national and local stakeholders. Exemplifying the Corus International family of organization's commitment to partnership, Lutheran World Relief operates through diverse partnerships that champion rural economic development, including:
Civil society: Community-based organizations (CBOs), local nongovernmental organizations (NGOs), faith-based organizations (FBOs), community groups and grassroots alliances
Private sector: Cooperatives, small and medium-sized enterprises (SMEs), agribusinesses, banks and professional trade associations
Government: Village councils, agricultural offices and government ministries
We apply a systems approach to strengthen intersectoral relationships which link partners horizontally with peers or connect them vertically with communities and actors at district and national levels. For example, we can link farmer cooperatives to private sector suppliers in agricultural value chains and convene grassroots networks and lawmakers to shape the legal environment through advocacy.
A critical premise for Lutheran World Relief, and across the Corus International family, is that no "one size fits all" approach exists. Local capacity strengthening needs and strategies are highly context-specific and will change and adapt over time. Therefore, continuous learning, innovation and flexibility remain at the core of our capacity strengthening approach.
Learn directly from our staff about the beliefs and actions that drive our local capacity strengthening efforts.
Local Capacity Strengthening Project Highlights
Union des Sociétés Coopératives des Eleveurs de Tamani (USCET), Mali
The Ségou region of Mali partnered with Lutheran World Relief on three projects between 2012–2020. USCET was formalized into a union in 2012 with support from Lutheran World Relief and originally included four member cooperatives. Lutheran World Relief strengthened USCET's capacity with training in governance and financial management, facilitating joint negotiation of credit and other services, and strengthening cooperative sales and marketing. With this mentorship and technical assistance, USCET then moved into a rapid growth phase as it was able to increase its cooperative members and the quantity of services offered. USCET has expanded its ability to collaborate with governmental and private sector institutions and is currently setting its own course with Lutheran World Relief playing an advisory role.
Pathways to Prosperity in the Cocoa Value Chain, El Salvador, Nicaragua and Honduras
Through funding from the U.S. Department of State's Bureau of Oceans and International Environmental and Scientific Affairs (OES), Lutheran World Relief worked with six cocoa producer organizations and three women's groups from 2012 to 2019 in the Pathways to Prosperity in the Cocoa Value Chain project. The project supported inclusive economic growth and natural resource conservation in Nicaragua, Honduras and El Salvador by strengthening capacities of cocoa producer organizations and increasing market access for smallholder farmers implementing sustainable agriculture practices. Lutheran World Relief helped negotiate new trade relationships and brought together cocoa buyers, certifiers, financial institutions and service providers to assess producer needs, provide technical training, and develop collaborative mechanisms for cocoa value chain activities. Through the project, Lutheran World Relief's Cocoa Toolkit was released as a resource for small-scale farmers and cooperatives to access practical guides covering topics such as plant maintenance, post-harvest processing, fermentation and drying, as well as organic and sustainably sourced certification and marketing to help farmers secure higher prices. This toolkit laid the groundwork for Lutheran World Relief's mobile cocoa application (Cacao Móvil) and was used as the core curriculum for organizational and business strengthening activities with cooperatives, as well as in extension services provided to farmers by youth promoters who were trained as community-based technical assistance providers in each country.
Community Enterprise Development Organization (CEDO), Uganda
Through years of working closely with Lutheran World Relief to improve seed quality and production, organizational management and farmer income,Community Enterprise Development Organization (CEDO) has grown in both prominence and capacity. Once an agricultural cooperative struggling to pay its loans to stay afloat, CEDO is now a 20,000-member, farmer-driven business competing to be one of the best bean seed producers in Uganda. As a thriving, self-sufficient enterprise, CEDO is an example of Lutheran World Relief's local capacity strengthening efforts to bolster rural economies worldwide.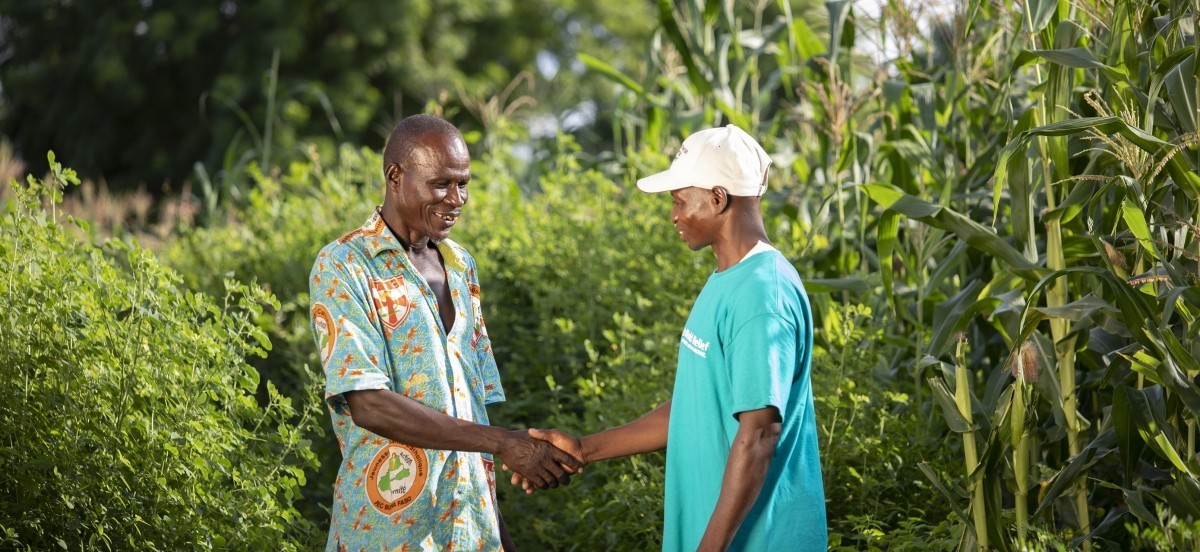 "… We have to acknowledge that today's ecosystem that drives foreign aid and development is inherently unbalanced and biased against local organizations and structures … We need to be always striving to put our local partners up front, to make sure that we are listening to them first and foremost, and we're putting their ideas and their concerns and their agenda as our agenda, as opposed to imposing our own."
While Lutheran World Relief has decades of experience with accompaniment, we recognize that more needs to be done to take us further down the path to achieving locally led development. As a U.S.-headquartered INGO in an aid sector that is part of a system rooted in longstanding power imbalances, fundamentally biasing it against local contexts, we believe it is imperative that we support and listen to the leadership of our underrepresented colleagues and partners as we prioritize internal reform and advocate for systemic transformation in our sector.